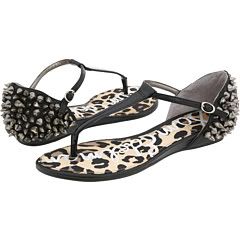 About the Sam Edelman Exie sandal for women:
**Sorry – this sandal is no longer available
Ooooh and aaaah – the Sam Edelman Exie sandal has some serious style, and a bit of an edge. 
Upper is constructed from leather, stud detailing on the heel cap adds more than a little bit of stylish look.  Ankle closure is adjustable for fit, lining is man made, footbed is slightly cushioned for more comfortable wear.
Dimensions: Heel height 1 inch
Colors: Black, Nude, Off White
Sizing: This sandal is available in women's full and half sizes from 6 to 10.
Reviews: Click here for available reviews on this Sam Edelman sandal or to write a review.  (Reviews can also be written below on the page.)
Shopping: To find the best selection and prices from merchants, the listings above on the page feature who sells it, for what price and which merchants have which colors available.  (Note that for any Endless listings there may be multiple colors for single listings on this site – check the site for full details.)
For single merchants that carry the Sam Edelman Exie thong, our top recommendation is to buy it @ Zappos.  They provide competitive prices, fast and free shipping and are known for over the top customer service.
Price checker link: Search for this sandal @ eBay.com auctions