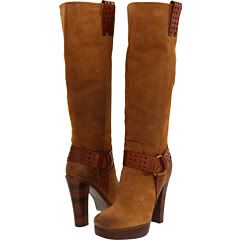 The Women's Frye Harmony Tall Harness Boot
*Note:  This boot is no longer available from our select merchants – if you're interested in buying it, click here to search for it @ eBay.com auctions.
Sleek, edgy and oh-so-tall is what the Frye Harmony Tall Harness boot is all about.  Combine the feminine looks of a high heel along with a platform, plus thte antiqued ring harness style and you have one heck of a look.  And – do you love tallllll?  This boot has it all.
Constructed from soft and luxurious suede leather, pull loops for easy on.  It has a ringed harness style, leather insole with cushioning and a leather outsole. 
Colors:  Black, Chocolate and Tan (shown in photo)
Sizing:  The Harmony Tall Harness boot is available in both full and half sizes for women from 5 1/2 to 11.
Dimensions:  Heel height 5 inches, platform height 1 inch, shaft height 17 inches, shaft circumference 15.5 inches
Shopping info:  Our recommendation is to buy this boot @ Zappos.com.  We found the best selection there in terms of both colors and sizing, and they provide free fast shipping, free returns service as needed and awesome customer support.  As other top picks of merchants carry the Harmony Tall Harness boot, you will see that in the listings here on this page.
Price checker link:  Search for this boot @ eBay.com auctions