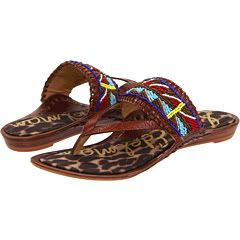 About the Sam Edelman Arlington Thong Sandal for Women:
*Note:  This sandal is no longer available through merchants.  Click here to search for it @ eBay.com auctions
The Arlington thong sandal is stunning – beaded designs on the strapping really makes the look – and surpasses what I would call "style!"  Upper composed of leather, general thong style.  Footbed is lightly cushioned for extra comfort.  This sandal has just a touch of a heel for even more of a feminine look.
Dimensions: Heel height .75 inches
Colors: Whiskey and Blush – both with constrasting beading patterns.
Sizing: Available in women's full and half sizes from 6 to 10
Shopping: This sandal can be purchased from a few different merchants online.  As more merchants carry it, that will be seen in listings above on the page.  Our top recommendation on where to buy it is @ Endless.com – you can get fast and free shipping, free returns if needed and excellent service.
Price checker link: Search for this sandal @ eBay auctions