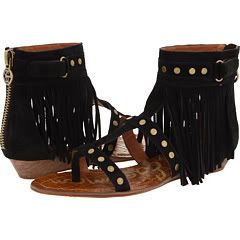 About the Sam Edelman Dazey sandal for women:
Oh my – what a look!  This is the perfect example of why we are featuring Sam Edelman footwear at The Fashion Fiend!
Upper constructed from high quality suede, fringe detailing is what makes this sandal so unique.  Stud details on the strapping, overall thong construction, back zipper for easy on and off.  Footbed is cushioned a bit for more comfortable wear.
Dimensions: Heel height 1.25 inches
Colors: Black, Chateau Grey, Tea Rose
Sizing: Available in full and half sizes for women from 6 to 10
New in the collection for 2011 – the Sam Edelman Dazey Fringe Sandal. Compare prices and selection, get free shipping from listings below:
Reviews: Click here for available reviews on this sandal, or to write a review.  (Reviews can also be added below on this page.)
Shopping: In terms of overall best shopping, our first recommendation is to thoroughly check listings above on the page – we provide the "who and how much" for the Sam Edelman Dazey sandal – giving you a good look at selection and price.  (Note that any listings from Endless.com may have multiple color choices on their site while having a single listing on this page.)
In terms of merchants that carry the Dazey sandal, our top recommendation is to buy it @ Endless.com due to competitive pricing, fast and free shipping.
Price checker link: Click here to search for this sandal @ eBay.com auctions