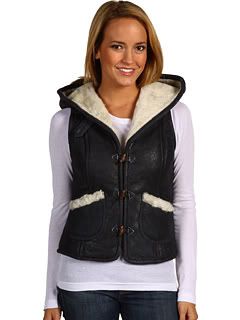 The Women's UGG Ventana Vest
**Note:  This vest is no longer available from online merchants – click here to search for it @ eBay.com auctions
Wrap yourself in luxury in the UGG Ventana Vest – a new addition to the UGG Australia collection for 2011.
Constructed from genuine lambskin leather, with a shearling lining designed to keep you comfy and warm.  It has a toggle closure up the front, with waist pockets, one having a logo patch.
Colors:  Fawn with Cream, Indigo with Natural (shown in photo)
Sizing:  Available in standard women's clothing sizes (XS, S, L, XL)
Dimensions:  Length 22 inches
Shop for the UGG women's Ventana vest – get free shipping from most or all listings.  Note – Single listings may have multiple color selections:
Shopping info:  We stumbled upon this new UGG vest style @ Zappos.com and that is where we recommend that you buy it based on the fact that no matter when you shop you will likely find the best selection with competitive pricing and free shipping and returns.  If other online merchants carry it, we will list our top picks on this page.
Price checker link:  Search for this vest @ eBay.com auctions