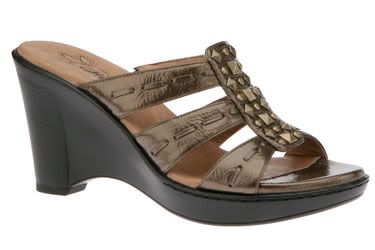 About the Umberto Raffini Camilla Sandal
The Raffini Camilla is certainly a tough one to resist – it has a lovely overall design (that will enhance the shape of a woman's foot and leg), and it is made to be ultra comfortable!  Nice combination.
Details: Ribbons and metal studding embellish this sandal from Umberto Raffini – and the wedge high heel makes it even more of a feminine selection for the spring and summer months.  Slide sandal style, triple straps, constructed from premium leather.  Cushioned footbed, memory foam to conform to the shape of a woman's foot and stride.  Rubber outsole for both traction and additional comfort.
Dimensions: Heel height 2 1/4 inches
Colors: Black, Bronze and Red
Sizing: Available in women's sizes from 5 to 11 1/2
Shopping info: **Note:  We are no longer able to find the Camilla from online merchants.  =(  Use the link to below to search for it on eBay.
Price checker link: Look for this sandal @ eBay.com auctions