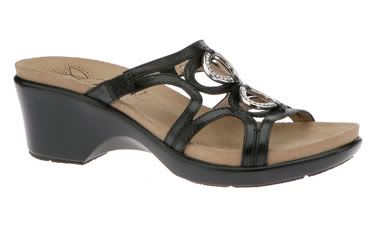 About the Umberto Raffini Nadia Sandal:
The Umberto Raffini Slide sandal for women is part of an evolution in the fashion industry – fashionable sandals that are just as comfortable as they are stylish.  This slide-on style sandal has some little "extras" that make it extra special.
Details: Leather upper with silver toned ring details up the vamp.  Multiple straps, elastic fittings to make this sandal a great fit.  Comfortable wear with a special ergonomically design and memory foam sole to provide a custom fit for each individual woman who wears it.
Sizing: The Rafini Nadia comes in full and half women's sizes, between 5 and 11 1/2
Colors: Currently available in Black only, possibly more colors coming.
Shopping info:  Sorry, this sandal is no longer available from online merchants.
Price Checker Link: Look for this sandal on eBay.com