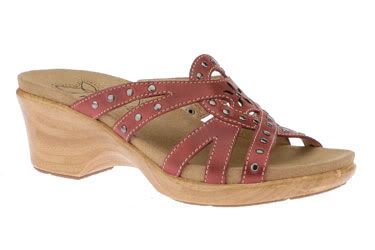 About the Umberto Raffini Nicci Slide:
Part of an evolution in women's fashion footwear for spring and summer months is the Umberto Raffini Nicci. A gorgeous leather slide-on style sandal for women, that is known to be just as comfy to wear as beautiful.
Details: Leather upper, multiple strapping slide-on style.  Stud detailing on the straps set this sandal apart from the rest in terms of its looks.  Cushioned memory footbed and ergonomically designed for a custom fit, and comfortable wear.
Dimensions: Heel height 1.35 inches
Colors: Red, Black, Blue, Brown
Sizing: The Raffini Nicci is available size 5 to 11 1/2.
Shop for the Umberto Raffini Nicci Slide Sandal for women – featured women's sandal for spring and summer of 2011. Get free shipping from listings below:
Shopping info: Currently available exclusively @ The Walking Company
Price checker link: Look for this sandal @ eBay auctions