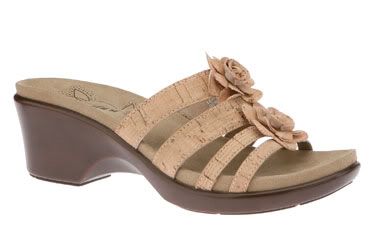 About the Umberto Raffini Nina Slide:
New for the spring and summer seasons of 2011 – the Umberto Raffini slide sandal provides women with some delicate feminine features, and are known to be some of the most comfortable slide sandals available.
Details: Upper composed of leather or cork material (depending on the version chosen), floral detailing up the vamp.  Comfortable sole with memory foam for a great fit.  Flexible and impact-cushioning sole for even further comfort.
Dimensions: Heel height 1.35 inches
Sizing: Available in women's full and half sizes, from 5 to 11 1/2
Colors: Cork, Black
Featured Fashion Fiend sandal – new for spring and summer of 2011 – the Umberto Raffini Nina Slide Sandal. Available colors and merchants below – get free shipping:
Shopping info: The Umberto Raffini Nina is currently exclusively available @ The Walking Company
Price Checker Link: Look for this sandal @ eBay Auctions