Compare prices and selection on the lineup of available "Very Berry Paisley" bags – totes, backpacks and much more – get free shipping on most or all listings below:



Vera Bradley Very Berry Paisley Bags – Top Picks:
While all of the Very Berry Paisley handbags from Vera Bradley are gorgeous, bright and colorful – and as it is also true that each woman will have her own individual preferences, the fact remains that some of these bags are more popular than others.
Since probably not all Vera fans know of every single kind of bag available from the collection, we thought it might be a helpful gesture to point visitors in the direction of the specific bags that appear to be more looked for than the others: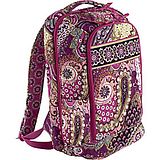 Vera Bradley Laptop Backpack in Very Berry Paisley
This is a modernized version of the traditional backpack, having quite a number of compartments and ability to keep things organized well.  Not only this but it is an excellent bag for travel, and will accommodate notebooks and other school materials as well as a laptop (15 inches).   It is a nice sized bag having dimensions of  15 3/4 inches in height, 11 1/2 inches in width and is 7 inches deep.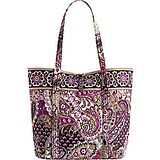 Vera Bradley Vera Tote Bag in Very Berry Paisley
Here is a gorgeous rendition of a Vera bag, with a height of 10 1/4 inches, it's 14 3/4 inches wide, and is 6 1/4 inches deep.  This bag is double quilted and has an 11 inch drop strap as well as a zip closure.   Fun, gorgeous and practical too.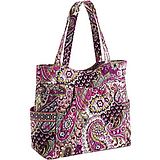 Vera Bradley Pleated Tote in Very Berry Paisley
A very stylin' bag with added pleats for great looks and larger dimensions for added functionality.  It also features a zipper closure for additional safety and also has a bit of a curve in the yoke for added comfort to the underarm when carrying.  Lots of pockets, lots of organization too.  The dimensions of fthtis bag include a height of 14 inches, a width of 14 3/4 inches and a depth of 5 1/4 inches.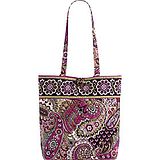 Vera Bradley Tote in Very Berry Paisley
Here is the classic tote that is already much loved and very well known – all in a gorgeous Very Berry Paisley package.  It features a recessed zipper closing and a removable base and a bit of a longer strap drop of 12 1/2 inches.  Other dimensions for this bag – height of 13 1/2 inches, width of 11 3/4 inches and a depth of 4 inches.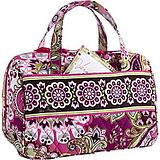 Vera Bradley Lunch Date Bag in Very Berry Paisley
Ya just gotta love the convenience of this gorgeous bag – it carries cold or frozen food with you wherever you go and has a handy and easy to clean liner and a couple of inner pockets to hold the cold packs for your food.  A lovely way to take your lunch along – even if it has to stay cold and a slide out ID tag.  Dimensions of this bag – 9 /12 inches in height, width of 7 inches and a depth of 6 1/2 inches.
Price checker link: Search all eBay auctions for Vera Very Berry Paisley