Compare prices and selection on the Veronica Slouch Frye Boot for women – get competitive low pricing, fast free shipping from these merchants: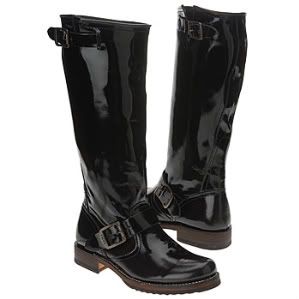 About the Veronica Slouch Frye Boot:
Yes ma'am – this is the boot that women are talking about (and of course wearing) everywhere! The Veronica Slouch Frye boot is also the boot that has set a standard and created an entire style in women's boots – the tall buckled slouch.
Due to the extreme popularity of this boot, the variety of colors and materials (patent, vintage leather, etc.) have expanded so that even within this one single style of boots there is quite a bit of selection of different looks!
Sizing Information: These boots are generally known to fit true to size.  (As a note, these boots are also known to fit even larger size calves.)
Price Checker Links – Check other resources for the Veronica Slouch Frye Boot:
@ Amazon – When I checked on this, there is actually a decent selection!  A good place to check for discounts and sales.